The Ross County Board held a special meeting on Thursday June 18 that approved RCBDD to be the administrative agent for Ross County Family and Children First Council (FCFC).
FCFC is a partnership between governments services, communities and families that enhances the well-being of Ohio's children and families by building community capacity, coordinating systems/services and engaging and empowering families. Each county has an FCFC which completes the four mandated functions illustrated in the triangle below: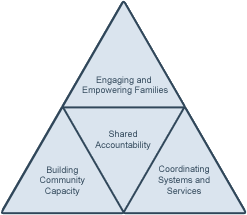 RCBDD approved the hiring of a Family and Children First Council Coordinator to complete the required duties. RCBDD will also manage all financial and program activity of the FCFC. We already collaborate with many of the programs offered including Early Intervention and the BREATHE program, and we believe the programs and responsibilities of the FCFC align well with our mission.
It is anticipated this program will be budget neutral. FCFC is funded through a variety of state and local funding sources. The amount of funds available determines the programs and services offered through FCFC.
If interested in the FCFC Coordinator job duties and to apply, visit our jobs page.